Angels, Devils, Serpents & Existentialism at PORN "STAR" Karaoke!
.
(The following story took place about 1 year ago.  At the time, I wrote the outline of the story but had no blog to post it on.  It's not implicating the entire scene; it's just a reflection of the people I met that particular night.)
Johnny Soporno is in town, and he sends out an invite to an event entitled "Porn Star" Karaoke.   (To paint you a picture: Imagine a heavy set man, wearing a Hawaiian shirt with giant devil horns who likes to condescend you often.) It's a Tue-night event at some karaoke joint where apparently there are quite a few porn stars in attendance.  It seems like it might be a fun event so a few of us decide to go.
While we are on the topic of porn "Stars", we ought to ask pertinent questions.  How the hell is it that every single person who has spread her legs in front of a video camera is referred to as a porn "Star"?  Certainly, there are a few who have gained fame in pop-culture and a case could be made that they are porn "Stars."  The rest should be called porn actresses, but then, they can't act worth a damn. They should be called "Paid Porn Participants" and they ought to be happy with that title.
You don't see that in normal movies.  You don't see some guy who was in "Braveheart" for 3 seconds before getting slashed by William Wallace referring to himself as a Movie-Star.  You don't see him at parties showing his scene, yelling out: "Yeah, wait, wait, wait, my scene is almost there, wait, PAUSE IT, Pause it!  Shit, you went too far!   Rewind, rewind, slow down!  Right there!  That's me! About to get stabbed! Movie Star, baby!"
I'd bet you that even the long-haired Asian bad guy with the fu man chu from "Die Hard" would not refer to himself as a movie-star. He was also the same guy who tortured Mel Gibson's Martin Riggs character via electrocution in the original "Lethal Weapon".  Even THAT guy would probably not call himself a "Star" and he is featured in two of the most famous, well-received, popular, beloved action movies of all time.   Just for my awesome readership, I found a photo of the fu man chu man:
OK, let's not get side-tracked.  Back to "Paid Porn Participant" [ppp] karaoke:
So I arrive at this place with Jay and Rey, the blokes known as Formhandle and Tokyopua.  Johnny has been kind enough to invite us, but then, that feeling of kindness seems to get flushed down the toilet when you see that he invited anyone and everyone he could get a hold of through text messaging who also happens to live anywhere near Los Angeles.
So the place is now ransacked with "The locust" (A separate post coming up on the who the locust are)  and some Asian pick-up teacher named Johnny who walks around with a permanent Zoolander contourtion on his face in order to look cool. (Johnny Chang, we'll call him).  There are various people running around and a black guy by the bar looks familiar.  Oh wow, it's the dude who plays "Carlton" on the "Fresh Prince of Bel-Air."  What's he doing here?
Johnny is having some sort of a celebration and has a little section all to himself.  I join the group, chat with a few people, and the guys seem like pretty cool dudes.  I get to hear an insider's tale of the porn business.  It's rather intriguing.
WOW!  It turns out that hidden behind the glitz & glamour of "Ass to Mouth" and "Double Penetration," exists an ugly business.  It's difficult to find work, and even difficult to maintain a living.  With a plethora of people looking to make quick cash, it has become increasingly more difficult for the PPPs to make money at XXX.
I meet one of the girls who is in the supposed VIP area.  We start chatting.
The conversation is going nowhere.  It's difficult to maintain conversations.  I typically enjoy conversational dialogue that is fun banter between two humanoids.  Very tough to do when 1 person just has nothing to say or add.
These are the type of women routine-stacks were developed for!  It's not that she is being mean or rude. She just has nothing to say, nothing to add.  I see why Johnny gets along with so many of these women.  He has a polished Routine-Stack (though he doesn't see it that way), and he talks about 97.5% of the time looking to dominate every social interaction.  (This usually starts off by him trying to push his ideas of "Fallacious Reasoning" for the first 25 minutes.) He expects the other 2.5% of the conversation to be filled with short comments such as, "Yes, I understand, you're so right" and "You're fascinating."   Talking AT people as though they're cardboard boxes doesn't really appeal to me. Still, I find myself at odds.
I am talking to her, but there is no place to sit.  She seems friendly enough.  I put my hand out, she grabs it, I pull her up and as she stands, I sit in her place and have her sit on my lap. Excellent.  Now, I have a place to sit.
I begin slightly massaging her shoulder and she is enjoying it.  This avoids having to have much dialogue.  She looks about 22, slim, wearing a pair of tight shorts that are cut very high, Daisy-Duke style.  She is in town for a couple of weeks shooting some scenes and may stay longer if she can find more work.  That's all up in the air and she isn't sure if she can land more gigs.  She seems like a genuinely nice person lost in the midst of all this mayhem.
Johnny Soporno sees this, and in his effort to assist, he pulls out a pair of black gloves.
"Here, put these on!"  He says as he smiles and hisses.
I don't know what it is, but Johnny Soporno has a weird habit where he hisses like a snake when he smiles, and it's very….alarming.  It's a good thing he is not a salesman because the hiss sounds like a salesman salivating indicating, 'I am about to fuck you over."  He doesn't do it on purpose, to my knowledge, but that doesn't lessen the effect of feeling like being struck by a serpent.
"What, are we kidnapping someone, or robbing the joint?"  I ask as I take the gloves.
"Trust me.  Would I give you something that's not useful?" Johnny says.  I don't have time for that debate so I put on the gloves.  He instructs that I should turn them on. On each fingertip of the glove, there is a tiny vibrating plate.  Essentially, your five fingers are now 5 tiny vibrators.
Johnny hisses with a laughter indicating he is pleased.  "Women love that toy."  Again, I don't have time to argue that I don't like vibrators.  Plus, I know that he and Steve P. have gone back and forth on this issue.  It's usually Steve P. yelling at him that many women who have trouble having orgasms through organic intercourse can to a great extent thank their vibrators for it, and Johnny in return tries to argue how great they are.   That he doesn't give a shit, is rather obvious.
I resume massage of the PPP girl.  She is enjoying the shoulder-back massage, and work my way down the sides of her torso.  Johnny pulls out a giant vibrator that is cordless and applies it directly to a girl's crutch.
–This guy is the Batman of vibrators!!!!!!!!!
–"Holy Dildos, Batman!  Why he must have a monopoly on all the vibrators of Gotham."
It's like he has the same Batman utility-belt just filled with vibrators. Seemingly, he is just wearing a Hawaiian shirt, but he pulls out one vibrator after another from various places that are hidden to the eye.   Apparently, this other vibrator is called a "Magic wand."  This is the new cordless model.  He talks about it as if the invention of this rivals that of the Hubble Telescope.  Like the fucking pinnacle of humanity's achievement that'll be discussed centuries from now:  "Wow, professor: Lasik eye surgery, NASA Space station and of course, the Magic wand vibrator."
I start massaging the girl's inner thighs.  Fuck, this feels awkward.  Normal women don't operate this way, even in a nightclub.  This is a surreal world of women who are desensitized to being touched anywhere, anytime so long as its by approved people in the food chain.
The feeling of uneasiness comes from the fact that the person sitting on my lap resembles more of a living doll than a person.  She is receptive, she goes along with everything, but has nothing to say.  It's like a living human doll.  It makes it awkward.  Johnny would reframe it as me having issues with sexuality.  In the meanwhile, I thought we ended slavery.  If liking women who have brains and can engage in stimulating conversation is having seuxal-issues; Then so be it.
I start massaging her crutch just over her Daisy Duke styles shorts.  She starts breathing heavy, panting and slightly moaning.  Again, it feels a bit weird.  In some ways, it feels like I am rubbing a doll, except it's human and has a heartbeat.  It doesn't reciprocate in any way shape or form.  It just reacts to the stimulus but gives nothing back.  It gives nothing back.
I think about taking her outta this environment, back to my place.  She has no car, and really, I don't want to have to give a ride in the morning back to the fucking valley.  The 405 north traffic is brutal in the mornings and a hike from the South Bay to the Valley would be atrocious.  Yet, her body is hot and her tight camel-toe sporting shorts make me want to bend her over.  I just don't want to talk to her.  I know it's terrible of me to say that….. Better yet, maybe I should just take her to the bathroom.   I continue the massage.
She starts to breathe heavier, while gyrating back and forth and I have an erection.  Pull to the bathroom, but my car in the parking lot would be better.  It's difficult for me to come from oral sex, it takes focus.  And the last thing I need is douchebags poorly singing a karaoke version of Garth Brooks on the mic as I am trying to concentrate on the blowjob.
Suddenly, a debate starts raging in my head.  I am having a crisis.  Given the environment, the Batman utility belt of vibrators and the human doll with a heartbeat, I am weirded out and am having an Existential moment. One that says, "What the fuck are you doing here?"
It's like the movies, where there is a "Good Cameron" and an evil one on each shoulder, each giving me instructions.  I have the Good Cameron on my left shoulder and evil Cameron on the Right; And evil-Cameron is not really evil. He is just unabashed and likes to have fun.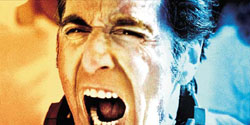 Good Cameron:
Dude, what are you doing?
You don't even like this girl that much.
You like nothing about her.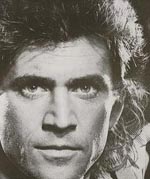 Evil Cameron:
Who gives a fuck?
Take her to the bathroom, pal,
Have her blow you, get it done,
Drive home relaxed!
Good Cameron:
You're doing this for your ego.
You realize that, right?  You don't really like this
girl, and you can't stand talking to her.
Not to mention you already know the sex under
the circumstances will be awful.
Evil Cameron:
It's a matter of simple biology.
You're a man, you are horny and
now you're turned on,
She is willing, and she looks good.
What else do you want?
It's a matter of physics.
Penis goes in Vagina.
This is the way of the Universe.
Good Cameron:
You're doing this just
so you can tell your pals at some point that
you fucked a pornstar.  She ain't even a "Star."
She got paid some money
to have sex with some dude while a video camera
just happened to be present.
She is a "porn participant."
But you wanna brag about it, anyway.
You have no other incentive.  It's just plain ego.
Evil Cameron:
Look man, the world is a rough place.
I understand that.  It always has been, buddy.
It always probably will be.
It's rough out there pal.
She sucks dick for a living.
So what?   Who are you to judge, huh?
Who made you judge, and jury?
Get your dick sucked and move on.
You're not dating the broad.
You don't even have to talk to her ever again!
Plus, this will probably be good for her.
This is what she does for a living,
so it'd be like practice for her.
Maybe with your help, she'll get a
couple of extra jobs out of it.
So, you are helping her with her career!
Bless you for that!
(Evil Cameron is fucking clever.)
Good Cameron:
You do this, and you're full of shit.
You're a fucking hypocrite.  Don't you go online
and encourage guys to lessen their egos,
find some inner-peace, let go of their
scarcity mentality and find harmony & abundance.
You want to feed your ego a little,
do something worthwhile:
build an empire like Apple or Microsoft.
Change the world.
Bragging to your friends about fucking an
Alleged pornstar is ego-driven petty garbage.
You know that.  You do this, and
you're just doing it for your ego,
you PRICK!  You fucking asshole.
(Angel Cameron is crass, crude, and filthy.
He is an extension of me, after all.)
Damn it.  I am starting to lose my hard-on.  Angel Cameron is making valid points.  I look over and Soporno is looking at me, he actually winks at me, and then he hisses.
"Hissssssssssssssss"
Evil Cameron:
Dude, this place is fucked up.
I admit it.   OK?  I admit it!  I confess.
You don't think I get it?  I DO!
Hey, we all know it's disgusting.
Just fuck the chick and go home.
You are a man!  This is what men do!
Isn't that what evolution states?
Isn't that the stuff that prick DD
Keeps reading out of various books?
You don't have to like the place.
Evolution has programmed you to do  this.
On top of that, this is NOT the fucking time
To have an existential moment.
Take her to the bathroom,
Get a blowjob, then leave.
(Evil Cameron sounds almost reasonable and understanding.  I've only had 1 beer, and would need about 4 or 5 more, before his reasoning seems legit)
Good Cameron
(screaming in full Pacino voice now):
I am going to leave you with one last thought
and after this, you do whatever the fuck you want.
I am done  with it.
Look over there!  Look!
See that fat guy fondling and groping random
women who are dumb, desperate, and destitute?
See him? LOOK AT HIM!
Damn it!  Look at him!
Strive to be better than he.
[Wow, angel Cameron even has perfect grammar!]
You get a random blowjob under
The unpleasant circumstances just to brag about
it and you're not better than everyone else here.
Do what's right!  You know you're better than that.
You're better than that.
YOU ARE BETTER THAN THAT!!!
Good Cameron is inspirational.  He sounds like Al Pacino giving those passionate speeches, like the one at the end of "Scent of a Woman" or the locker room speech at the end of "Any Given Sunday."  There is no denying him.  His inspiration is far too powerful. He is undeniable, irrefutable, and indisputable.
Fuck!  My hard-on has completely subsided.  Really, this was NOT the time to have an Existential-moment!   In fact, my cock has so far gone the other way, I think has gone inwards.  I may need to yank it back out.  Along with my hard-on is my desire to have sex or even be in this place.  It's not that sex with someone who does porn is wrong.  It's fine.  I have no issues with that.  Porn was a good savior during my teenage years.  The reasons for it under these circumstances are wrong.  A hissing serpent pressing vibrators against the panties of any woman within arms reach seems wrong.   People acting like subordinate slaves out of economic destitution seems wrong.
I look around.
This place is like hell.
It's fucking hell.  Wait, what the fuck???
Hell is supposed to be a place where AC-DC is rocking on Stage as Bon Scott and Brian Johnson take turns on the mic, Where you drink cocktails with Frank Zappa, discuss music, life, and world history with Billy Joel, talk about religion and oppression with John Lennon and Bob Dylan, who all then do a spontaneous riff on piano and acoustic guitars…..all in the meanwhile as you exchange occasional intellectual witty remarks and quips with George Carlin.
That's what it's supposed to be like.
Instead we have a guy hissing like a snake while pulling out vibrating gadgets out of various orifices, chicks with more plastic parts than a mattell Barbie but lesser ability to converse, and Johnny Chang running around carrying a permanent weird contortion of his lips, which he believes makes him looks cool; while poor Carlton is still empty handed.  What the fuck!!!!!!!!!!!!!!!!!
This isn't even hell.  It's a nightmare.  A nightmare that'd even make Freddy Kruger plead and sob, "Please, get me outta here!"
I can't take it anymore.  Luckily, I have the choice to get the fuck out.  Things are looking good: I got a car, half a tank of gas, and I am sober.   I get up, I walk out, and leave it behind.  Gotta drive a half hour drive to get home,  Chalk up a victory for Good Cameron.  His passion was too great, and his inspiration too undeniable.  He won this round.
Ahhhh, things are looking up, got my ipod with over 2000 Rock And Roll Songs spanning over 4 decades to keep me company on the drive home…..  Let the Serpents and dolls have at it.  I am moving on…..