A self-development BLOG WITH AN ATTITUDE
.
This is my blog designed to help you learn about attraction, and to help your dating life, in the meanwhile entertaining you.  It can be insightful, deep, whimsical, helpful, spiritual, crass, rude, filthy, sarcastic and satirical, (sometimes all at the same time.)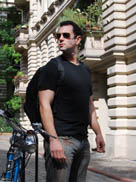 .
.
.
You'll see blog entries ranging from how to improve your communication with women, to how to flirt more effectively with girls, to how to improve your self-confidence, to my commentary on the sometimes ridiculous "Pick up artist" scene to random observations about life and the absurdity of things.
.
 One of my hobbies is studying social psychology and human behavior, hence, you'll also find a lot of Blog posts on social nuances of personal interactions between people, as well as insights into human behavior & character.
 What you won't get is ridiculous arguments, pretentiousness or phony positivity that was learned by reading some self-help book.  It'll always, be real, genuine,  heartfelt, passionate, and at least somewhat entertaining.
    And perhaps best of all, this is a completely free resource!      You can read through the archive of various articles on Dating and Attracting Women  by clicking the "Attraction Guide"  Tab.  
Enjoy,
Cameron