Why (most) self-help coaches are jerk-offs!
.
Let's face it: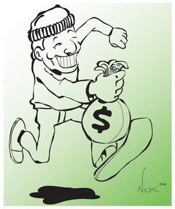 You and I cannot deny that there is plethora of books written on the topic of self-help.  Just walk into Barnes & Noble right now and check out books designed to teach you how to live your life.  Some are pop-psychologists and some are modern day prophets who seem to have all the answers. They call themselves "Spiritual Teachers" and instill words of wisdom amongst the confused masses.  
I was at a friend's hosue the other day, and while I was sitting on the couch, I noticed a particular self-help supposed spiritual book designed to help you live a happier life.   It got me very curious so naturally, I picked it up and started reading what it had to say.   While one out of ten books might have useful information, the other 9 just make for great entertainment, and this fit the bill.
There were different chapters that dealt with different issues, and much of it was common truisms that seem to make sense.  Then there was a chapter that talked about dealing with those who upset us and I thought this should be interesting.  Perhaps, they have some good useful tips people can utilize to get over the bullshit.  
But then, according to this book, the reason we are angry at someone, is because we see our own qualities within that person.  So if you have a boss who is an insensitive prick and demanding, you are angry at him because PART OF YOU is an insensitive prick.  If you hate someone because they're rude and abusive, it's because part of you is also that way, and that's why you dislike that person.  
So in order to reconcile, you have to overcome that part of yourself you see in that person.  This is the same crap some psychologists will tell ya.  Now, I'll be the first to tell you that you have to let bygones be bygones and life is full of assholes. You gotta get over it.  I get that, and yes, I am a big advocate of positive thinking.  But this modern psycho babble about you're seeing yourself in them is why you hate them?  This is their explanation and solution? 
A 100 years of this science and this is the best they can come with?    This is what our society has been reduced and dumbed down to?
Some 5th grader explanation that would probably insult the intelligence of most 10 year olds?
Ya know, when I was in my mid teens or so, I got my first car.  It was one of those old VW Beetles.  1972 model.  Cool car.  Man, I liked that car.  It was simple, efficient, cheap, rarely broke down even though it was ancient.  It has a manual stick shit and was air-cooled. (that's really irrelevant but I threw it in.)
I had just graduated high school and used to catch a lot of Dodger baseball games.  It was cheap and it was fun to go sit in the bleachers for 5 bucks to watch a whole baseball game live. 
One day, while watching a baseball game at Dodger Stadium with a high school buddy , someone stole that 1972 Beetle.  I didn't think anyone would steal a car that old, but apparently, they were popular.  (As I found out later, thanks to the kind policeman.)
Needless to say I was pissed off, the way ANYONE would be when Some motherf*cker steals yours transportation.  
It's just too bad I didn't have such self-help books around at the time. Otherwise, I could have realized that perhaps part of me had always wanted to steal a car, and perhaps I was secretly a car-thief who just had never acted on this wild fantasy, and that's why I was angry with the car thief who stole my car at Dodger Stadium that summer night.  Perhaps I was seeing my Grand-Theft-Auto anger in that car thief and that's why I resented him at the time.
WOW, this psycho-babble is so cool.  It explains so much.  All of the world's problems solved be reconciling through seeing yourself in other people.  Life-coaches really do have all the answers!
Imagine a child in Africa who had most of his family slaughtered by a War Lord who rampaged through his village, killing and torching everything.  (Shades of scenes from the movie "Blood Diamond")
Child
(Innocent voice, thick African accent)
Mother, what happened to our village?
Mother
(speaks with thick African accent, war torn)
My Child.  The War-lord mumba lamba just rolled through
Our village and burned everything down.  He raped, killed and pillaged.
Child
And where is Grandpa?
Mother
Grandpa has his head chopped off with a machete by
Mumba Lumba, along with Grandma, and some of your aunts
and uncles.  They were all murdered for no reason.
Child
I really hate mumba-lumba.  I hate this place, I hate this world,
And I hate everything here.  I am so angry about what happened.
Mother
Lucky for you, I have read AMERICAN SELF-HELP Books and I
have realized the problem.
Child
Oh, you mean that the world is full of greedy assholes and we have to
Learn to deal with it?  
Mother
No! It's that PART OF YOU Has always wanted to rape, burn and murder.
And now you see yourself projected though Mumba-lumba, and
that's why you hate him so much.  You see yourself in him.
Child
Wow. Thanks mother.  I am glad we have American Self-help books
written by greedy luney American fat cats.   Because I had originally
thought I was angry at the War-Lord Mumba Lumba for killing people
in my village and murdering my grandfather whom I loved so much. 
Mother
You're welcome.
Child
Now, when I go out to play football, I play alone because many of
 the village's children were also slaughtered.  When I cry myself to sleep
at nights in sadness and pain, I know that it's because part of me
also wanted to commit this horrible tragedy
 and THAT IS THE REAL REASON why I am really mad.
Mother
Yes, thanks to the Americans for their self-help books and products. 
If it weren't for American Life-coaches and pop-psychologist,
how would the world survive?  Oh WAIT!
I know the secret.  Seriously, I mean I really know THE Secret.
It's an infomercial disguised as a documentary and
it's called, "The Secret."
Child
Wow, The Secret. Sounds great.  What is it?
Mother 
Well, there is this genie in he universe waiting to take your orders. 
You just make a wish, like getting CHECKS IN THE MAIL for just
sitting on your ass and wishing, and the genie just does it for you.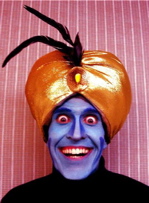 Child
Wow, the Americans are wise.  How does it work?
What ACTION DO WE TAKE?
Do we grow some crops? Maybe plow a field?
Maybe get a job, or an education?  
Perhaps Learn a trade or a craft?
Mother
No!  You just wish and think about it. The genie does all the work. 
You just sit on your ass.  That's the key: Picture it in your mind,
then sit on your ass.  You just MANIFEST it.
Child
Wow. But then, why was our village raided, our friends slaughtered
and our homes burnt down? 
Why would genie do this?
Mother
Hmmm,….. Child, even at age 9, you're very wise.  The reason is that
you manifested this.  You manifested the raiding of the village and
the beheading of your grandpa.
Child
(weeping, sobbing)
But I LOVED Grandpa. He taught me many great thigns and told me stories. 
I miss him. I miss him so much.  And now his head sits on a platter
on Mumba-lumba's wall.  I did not want this.
Mother
Shut up!  You manifested it!  That's what "The Secret" says. 
So now you must Manifest us, food, shelter,
a ticket to get the fuck outta here. 
Start manifesting boy.  Picture a plane ticket to America.
It's the greatest land with the wisest coaches.  We will go there.
Child
How did America become so great?
Mother
It's a great land because it was founded by wise-men.  Not quite as wise as
the people in the secret, but almost as wise.  Some were named
George Washington, Thomas Jefferson, James Madison,
John Adams, and Benjamin Franklin.  They were visionaries
and smart men who created a new country and a new Constitution,
 the likes of which the world had not seen before.  Their ideology
was based on the Philosophies of John Locke, Thomas Paine and
Thomas Jefferson, which went against the dogma of organized religion.
 They caused a revolution and won the war against the English.
Child
How?
Mother
They manifested it, of course. 
Child
You mean they rose up and FOUGHT battles to establish their new land?
Mother
No!!  George Washington and Thomas Jefferson  just sat on their ass!
That' the Secret!   They sat for days on their ass
along with the rest of the colonists and just asked
the Genie of the Universe to take  away their oppressors.  They also
asked the Genie to create a new Constitution and he was happy to comply.
Child
And what happened?
Mother
One day, these founding fathers woke up and magically the
British army was gone! There was a new Land and a new Democracy. 
AND…. of course, they also started getting checks In the mail!!
Child
(overjoyed)
America sounds great!  A nation built on ideas, philosophy,
and manifestation carried out by just
sitting on your ass!
Mother
Later on, there was a evil man named Hitler who murdered people like
The War-Lord Mumba Lumba, except his army was so big, he wanted to
Rule the world.  The Americans stepped in using "The Secret."
They just sat on their ass and manifested that Hitler and his Army
to disappear, and in 1945, they disappeared.
Child
Why didn't Hitler and his army use "The Secret"
to beat the Americans?
Mother
Ummm, ahh, errrrr….At the time, the Genie hadn't yet learned to
speak German.
Child
But what if it had? Who wins when two opposing forces
ask great Genie for conflicting favors?
Mother
Shut the f*ck up kid.
Child
But I heard something about an invasion at Normandy
where many young soldiers lost their lives.
Mother
Never happened! It's a myth. The Americans
just manifested for Hitler and the bad people to go away.
That's it.   Stop asking so many questions, and start
manifesting.
Child
(overcome by sudden sense of logic)
But wait, if they manifested his demise, doesn't this mean that
automatically they also manifested Hitler's creation?
Mother
Shut up kid.  Start Manifesting those tickets, and some
Wildebeest leftovers, or at least some beef jerky.
Otherwise, your ass is going to bed hungry tonight!
And that's what happened.  The story does have a happy ending.  Miraculously, the mother and son DID Find some tickets to America when they came across some Mormon missionaries who also had manifestation on their mind, (though from a different genie.)   Today, they live happily as pop-psychologists and life coaches.   They'll be making an appearance on Dr. Phil's show soon!  Be on the lookout.  
Stay good, and keep on manifesting.