UFC 101  – Anderson Silva
.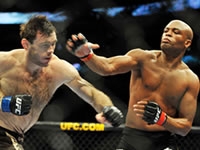 .
I know that quite a few of the Blog readers are also fans of Martial Arts from the emails I receive, so I hope you guys watched that match last night!   Anderson Silva's performance was the most amazing thing I've ever seen in a mixed martial arts match.  My buddy and I had the reaction Vin Scully had to Kirk Gibson's homerun in the 1988 World Series: 
               
    "I don't Believe What I Just Saw."
  It's almost like the Anecdotal stories you hear from Martial Artists like Dan Inosanto from the 1960s or 1970s regarding Bruce Lee; regarding how fast he was and that it was almost so difficult to touch him.  Watching that Anderson Silva match made you think, "Wow, so that's what that would look like."  On that night, his striking was so precise, his timing so perfect, and movement so fluid combined with such speed that it looked something like the Matrix Movie.  His opponent was moving in slow-motion compared to him.  His opponent is no slouch. He is a former light heavyweight champion.  Watching Anderson Silva in a striking match versus his last few opponent is the equivalent of watching an NBA All-Star (or First team rather) play against high school kids.  That's how far ahead he is.
If you're a fan of MMA, be sure to watch the match.  It may be a couple of minutes long but definitely worth watching.  His recent bouts are somewhat reminiscent of Roy Jones Jr. in his prime where he'd drop his hands down and opponents still couldn't tag him…