Lakers Repeat as 2010 World Champions
  .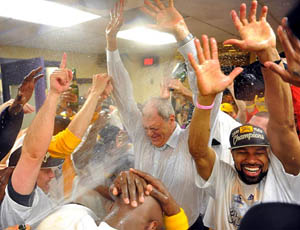 .
  In what was the one of the ugliest series of NBA basketball finas, the Lakers pulled away victorious from last night.  Lost in the roller coaster emotion of this series was the level of ugliness of the 7 games between the Los Angeles Lakers and the Boston Celtics.
 Last night's exemplified that ugliness: Superb defenses coupled with equally bad offenses.  Ugly, atrocious, hideous.
Here is what we were treated to:
Players on both teams repeatedly missing OPEN mid range jumpers.
Players (especially on Lakers) shooting free-throws at a measly 50% accuracy
Kobe reverting to vintage self in first half: Forcing shots against double & triple teams.
Rajon Rondo shooting 15-footers no better than anyone reading this article right now.  (And that may be an insult to the readers. Sorry)
Lamar Odom hesitant to take shots from the outside.
Celtic players putting on a clinic on how to miss point-blank range lay-ups.
The list goes on and on….
 This is not a game that'd be placed on display in the museum of Modern Art anytime soon.  A game uglier than watching the interlaced previews of the Karate-Kid remake where Jackie Chan has to use Kung fu (not karate, btw) to rough up 11 year olds.   The entire series displayed pathetic offenses, and that's just how it went. 
 Nevertheless, the Lakers won!  Nothing else matters now.  They reached down deep inside and emerged victorious after putting forth a gutsy effort.  They beat their arch nemisis and most hated rivals, the Boston Celtics. 
The Parade is set for Monday!
  I do realize most of the blog readers do not care about basketball, (or sports in genera)l perhaps.  However, I'll be resuming normal blog activity, writing articles on dating and such.  The past two weeks have been emotionally draining, and if you were a Los Angeles Laker or Boston Celtic fan, you'd probably echo those setiments. 
Anyhow, the NBA Finals are over.  Shall resume  normal programming soon.
New awesome articles to come!  Even Pau Gasol is excited!
.
Cameron