If Dating Women Were A Casino Game.
.
Welcome to the grand opening of the dating casino….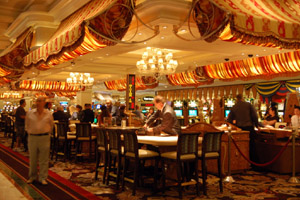 Get your Chips, high rollers stand in front, let the game begins.
.
The world of dating and attracting women can be a lot like a casino.  You have to understand the type of game you play and the odds you face.  Otherwise, the house takes your money and you're left standing there, broke, dejected, sporting that post gambling look that says "What the f*ck happened?"
Despite what any dating "Guru" tells you, approaching women is a numbers game!
It always has been!  It always probably will be!  Unless you're in a position where women are approaching you, you're going to play the numbers game and that's not necessarily a bad thing. If that's the case, then why should you even bother reading dating advice?
.
Because you learn to improve the odds in your favor.  How so?  Well, a guy who is good at interacting/flirting with females will talk to 10 women, and out of those ten, he'll have 5 or 6 good interactions.  (We are not talking about getting laid.  Just a good interaction where you both enjoyed the time spent.)  The guy who is mediocre at it will have to approach 50 women to experience those 5 or 6 good interactions.
.
So with that thought in mind, let's the hit the grand casino of dating.  You want to stack the odds in your favor, and make sure the statistics are favored towards you.
.
—————
.
Ahhh, this is the dating equivalent to roulette from hell.  Normal Casino roulette has two green slots for "0" and "00" which give the odds to the house regardless of whether you bet on red or black, odd or even.   This roulette table has ten green slots!  The odds are stacked against you from the get go.   Loud music, distractions from every which way, attention whores dancing on table tops, girls walking around in a chain gang with locked arms, obnoxious drunks, and a garden variety of douchebags running amok.
.
So why even go there?  Well, that's a good question.  Probably because the place sports enough bimbos to be called "Skanks R' us.' And the lure is too great to resist for men.  Is it impossible to work the scene?  No, but this scene does favor certain types of guys. These are guys that fit one (or a combination) of the elements listed below:
.
.
the good Looking,
the fit,
the Popular,  (Remember, this is high school on a bigger stage)
the rich (will try to swing things his way through bottle service purchase if this is a "Classy" joint.
the loud extrovert  (talk to enough people and you'll create a buzz.  Attitude goes a long way.)
the persistent  (fire at will, fire at will.  He's just looking to capture just 1 for the night.  This is like watching discovery channel where the lion feasts on the limping lama or gazelle in the back of the heard.  The persistent guy will hit on enough women to find that limping lama.)
*the perpetual drunk  (the annoying drunk who is there every weekend.  This guy will hit on and slobber on every single woman until one caves in.  He is more like the hyena, a creature which has no self-respect that chews on remaining carcasses from another predator's kill.)
Damn it, the casino analogy is turning into the Discovery channel…..  Let's get back to the casino.
So can an average looking guy standing at 5'7"  (170cm)  tall whose favorite hobby is reading meet a girl in this venue? Yeah, of course, it's possible.  Chances are he could run into a similar archetype-woman who found her way there for whatever reason that night.  However, we are talking about the numbers game and this is one game where the odds are stacked against a lot of guys.
.
The house is prepared to take your money, and I actually mean that.   $20 entrance fee, $15 cocktails, and doctor's fees to fix the hearing damage, you should be prepared to pay.  (If you live in LA, add $20 for parking.)
I am not saying you can't meet girls at a loud club.  Just pointing out that the odds are not the greatest.  And if you're NOT good looking or fit, then you're better off being a persistent belligerent drunk in this venue than the scholastic individual in the corner.
.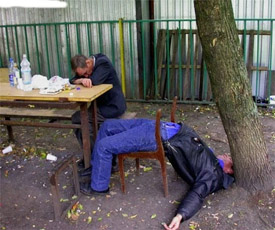 .
———————————-
.
Approaching in a lounge is sort of like playing black jack.  With a bit of skill, you can turn the odds quite a bit.  The crowd is more sophisticated, and the environment is a bit more peaceful.  It's a more conducive environment to meeting people than the last venue.  It's not loud and the place isn't crawling with blatant attention whores.  You won't find people dancing on table tops or the dancing monkey who thinks he is back in the 70s disco.  The crowd is a bit more refined too.  They like to smell the cork off the bottle here.
.
Close to a black jack game, except you're playing at one of those casinos off the beaten path where the clientele are missing teeth and possibly a couple of limbs here and there.  You can meet girls but you gotta be careful because people in dive bars often know each other.  (You're playing at a table where all the players are pals.)  Pace yourself, and get to know the place.  Make a couple of pals in the bar and suddenly you know half the place.  It becomes a friendly game.  Once you know some of the locals, you really stack the odds in your favor.  Now, you're playing blackjack with a team and you're counting cards.
You won't catch filet mignon at a dive bar often, but sometimes ground beef will do.
.
——————–
.
"Day Game"  Coffee shops, Super markets, Bookstores, and the like.
This is the equivalent to playing craps at the casino.  You have the best odds in this venue, and the proverbial house advantage is minimal.  Maybe you're a guy who is not interested in being a lound drunk, and you definitely don't want to meet half the bar.   This venue provides a more genuine meeting ground.   Loud night clubs are sort of an extension of high school so there exists the social peer pressure of whom you're seen with.  For the more introverted inclined, this venue provides a nice platform.  On top of that, girls are less superficial since they're not worried about the peer pressure aspect of things.
.
——————
.
This is  basically online blackjack.  With a bit of skill, you can do well for yourself.  The skills here is learning how to write the proper profile, selecting the right photos and having a bit of proficiency with prose.  I've known guys who meet quite a few women consistently from the comfort of their own home.  You have to figure out which games adhere themselves to your advantages.  Online isn't my specialty because I don't invest too much time in it.   I am the loud gregarious guy so I like face to face meetings.  This is where you gotta match the game to your personality.
——————-
.
Talking women at a house party gives the best odds.  This is somewhat equivalent to playing poker.  You can really clean the table pretty well if you're a skilled player.  The great thing about it is that even if you're not very proficient, you can still win a few hands.  Very social environment which allows people to be open and more friend to striking a conversation with strangers.  Even with little skill, you can bluff your way to winning a few hands at a house party.
.
——————–
.
House Party.  (And it's your house.)
Now, you are the casino.  It's your house (literally) and you're playing with house money.   You've got security, pit bosses, and dealers and "Eyes in the Sky" (but let's save the kinky shit for some other post.)  They're all working for you.   This is probably the easiest venue to work since you run the show, and it's your rules.   You're playing with house money so there is little pressure, and you run the joint so what you say goes.
Look at your personality, and decide what type of women you want to date.  Choose a venue that gives you the best odd.  Give yourself the best edge.
Cameron
————
.
Get a copy of my Ebook here: Building Attraction with Women